Bicycle Rental In FRIM Kepong
FRIM, the Forest Research Institute Malaysia. This is totally a great spot for cycling in the hectic city of Kuala Lumpur.
Forest Research Institute Malaysia (FRIM) which located at Kepong area is one of the leading institutions in tropical forestry research in the world. From 1929, expertise carries out various research activities from its forest nursery and large scale experimental plantation. By now, various attractions are developed to public in order them to carry out recreational activities at FRIM. Visitors can enjoy hiking, trailing Canopy Walkway, bird watching, camping, and cycling.
Since 2013, Ecocana Sports provides visitors bicycle rental service within FRIM compound. Our base is located at FRIM Club House, Jalan Foxworthy. For leisure purpose, visitors are only allowed to cycling on designated trails (shows on map below).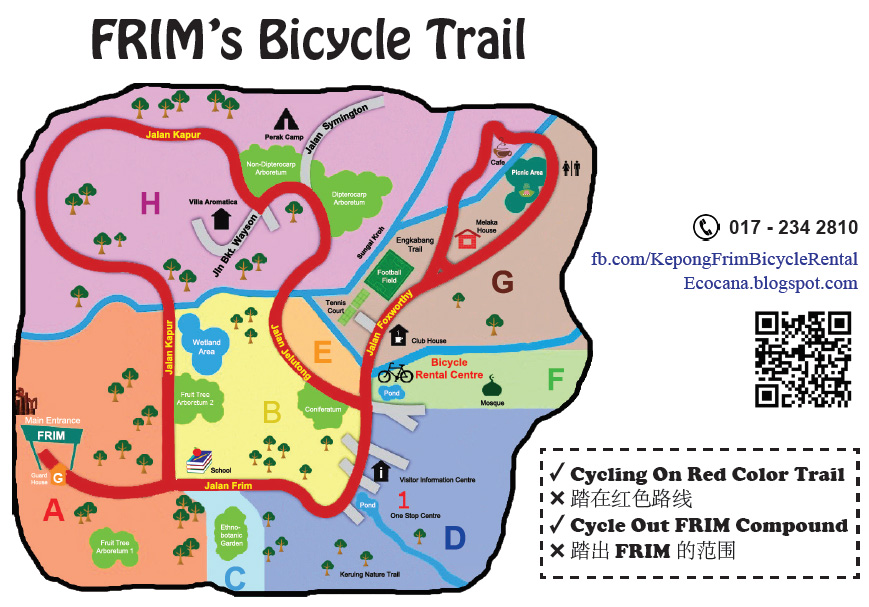 ​
Taking care of individual safety, visitors are allowed to cycle on Red Color trail, which is tarred road. To warm up, visitors can start cycling along Jalan Foxworthy (Zone G), pass by Football Field, Melaka House, and picnic area, then enter Jalan Jelutong (Zone E) for more challenging route. The trail is gradually inclined until Jalan Kapur (Zone H). After that, cyclist could stop pedal and enjoy the breeze as Jalan Kapur are gradually declined until meeting Jalan Frim at Zone B. Along Jalan Kapur, visitors could take a small break at Wetland area. Then, continue cycling on Jalan Frim, visitors manage to see other facilities along the road, such as Primary School, Museum, Ethno-Botanic Garden, Souvenir Store and Information Centre. At last, visitors may return their bicycles at club house.